The following is a great blog post by Yuki Burton who is on staff with Mission Year.  Like in Servants, those with Mission Year choose to live amongst the urban poor.  Yuki's reflection helps us critically evaluate the criteria society tells us to use to identify good neighborhoods from bad ones.  What makes a neighborhood good?  And is it more important to find a good neighborhood or to be a good neighbor?  Yuki's reflection was originally published here.  If you'd like to learn more about joining one of our teams that live and minister amongst the urban poor in Asia and West, please contact us by clicking here.
Bad Neighborhood:
Abandoned & dilapidated houses
Crime-ridden areas filled with drugs, prostitution & alcohol
Low-income people of color
Underresourced public schools with exponential dropout rates
Danger & apprehensiveness
Good Neighborhood:
Manicured lawns and well-kept houses
Gated suburban communities
Upper/middle class areas
Private schools with high test scores
Safety & trust
Who defines what a "good neighborhood" is?
Is it defined by the median income of its community members?  Or is a good neighborhood based on the crime rate over the last ten years?  If we really wanted to keep it real, I'd ask you if a good neighborhood depends on the color of its inhabitants.  But I don't think we're ready to unveil that seemingly hidden truth just yet, so I'll wait.
Many people living in these "good neighborhoods" have all the material security they could ever imagine, yet they still don't know how to BE a good neighbor.
You see, in my months here in Oakland City (which by society's standards would qualify as the latter description above), I have had a moment of clarity.  The word 'neighbor' is not simply just a noun.  Simplifying it to a noun strips it of responsibility, compassion and ultimately the power of God's divine love. That's because 'neighbor' is a verb. And I have learned to embrace the beauty of intentionally neighboring to my community here in Atlanta.
Because after a long day of work and traveling two hours on public transportation, I can still bake Mr. Bobby (who lives across the street) some cookies for willingly being our on-call handy man all the time.  Or, no matter how tired I am, I can still open the door for little Zerricka from next door, who wants to come inside and draw pictures on our whiteboard and dance to Beyonce.  It brings a smile to my face to know that the brownies we left in the Brown Family's mailbox before spring break got to them the day they brought home their first child from the hospital.  What a pleasant and on-time surprise!! And what's more, they've invited us to join in the celebration of their daughter at their traditional Islamic "naming ceremony."  Honored is not even the word.
I don't think I've gone so far as even inviting any of my San Diego neighbors to a birthday party or Sunday dinner in these past 23 years.
Reflecting on this polarization of good neighborhood vs. bad neighborhood, I see how omnipresent God really is. I've never felt so cared for and loved on by the people next door as I do now.  It's so much more than a hi and a bye. And it's authentic, and I love them for that because they've taught me so much about unconditional love through their actions.
Too often people speak down on low-income areas as if there is no good to come out of them.  Like, there's no community building or any good people left.  But I am a witness that the Devil is a liar!  I've met some of the most sincere, loyal and God-fearing people here in my neighborhood. Every day they prove to me, through their good neighboring, that God is working amidst every situation regardless of the zip code.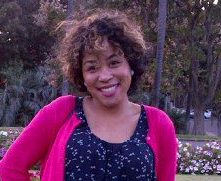 I feel safe in my community.  I feel solidarity.  I feel cared for.  So if Oakland City and any other hurting area is a "bad neighborhood" based on society's definition, that's totally fine with me.  I'll take a bad neighborhood with good neighbors over a good neighborhood with bad neighbors any day.
"You shall love your neighbor as yourself" Matthew 22:39
Yuki Burton is from San Diego, California. She studied Sociology at the University of California Berkeley. She is serving with Mission Year on the 2012-13 Oakland City team in Atlanta, Georgia, USA.