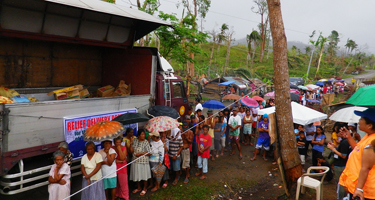 Greetings,
Last week I was able to travel to Southern Samar and assist a relief operation to survivors of the super typhoon Haiyan. Haiyan was the strongest typhoon of 2013 in the world and one of the strongest on record. It made landfall in the Philippines on November 8. Currently, the death toll is nearing 6000 and nearly 2000 people are still missing. Over 4 million people have been affected and hundreds of thousands of homes and buildings destroyed.
I traveled with the NGO Citizens Disaster Response Network. They have 30 years experience in the Philippines supporting communities to become more resilient to disasters and also providing relief and rehabilitation to disaster hit areas. They have a local member partner in the area who did all the local preparation work for the relief operation.
We drove from Manila in a convoy of two vans and five trucks. Once we arrived, our group was split with one van and two trucks continuing on to Hernani while we went to the coastal town of Marabut. Marabut has a population of 15000 people and is made up of little fishing villages along the coast. Our job was to deliver 2040 relief packs to eight of these villages. Each pack contained: 10kg Rice, 500ml Oil, 500gm dried fish, a hygiene kit, washing soap for clothes, blanket, sleeping mat and tarpaulin.
I've often noticed, here in the Philippines, an exceptional ability in many people to persevere amidst great trial or challenges. This was no different in the stories I heard from the people in Marabut.
Francisco is an aging man with adult children. While they are working and bringing up their families in Manila he remains in Marabut planting crops to feed himself and sell what he can for income. His house was flattened by the storm and he now uses the old roof for his living space. But he's not angry; he says you need to carry on even though it's difficult. God's not to blame either he says, for God brought him into the world and is gracious in giving him each new day whatever it brings. The walk he takes to tend his crops is four kilometers but today he stayed home to receive his relief package. Tomorrow, though, he'll head out and get on with life.
I met Jeron as he banged the last nails into a small seat he was making for his son. He tells me of the powerful storm surge that roared into the village on the morning of Nov 8. He and his family took refuge on the upper level of a house just across from his, but where he points nothing now stands. "The floor gave out," he says, "and we all went into the water. My grandma died and my mother is still missing."
Others I talked to said escaping to higher ground saved their lives. In one village over 1700 people took shelter in a cave high above their village and only came out once the waters had receded. Another village went to a bare hillside where they weathered the storm and pacified children terrified by the wind and rain. Now, they tell me, their children frighten easily by the wind.
Hearing these and other stories has deepened my commitment to support people as they get their lives back together. It's also affirmed to me the importance of being disaster prepared in such a vulnerable country like the Philippines.
After assisting with a wave of relief in these communities and others throughout Samar and Leyte, CDRC has plans to support these communities rebuild their homes and livelihoods. Common needs they've identified are building materials for roofs, fishing boats and nets and seeds and tools for farming.
Servants has already used donations from overseas towards relief efforts and now we'd like to support this CDRC proposal for rebuilding. Please consider using your networks to help us support this work. You can make a donation here.
Many thanks,
David Cross
Servants Manila