Our vision is to see the poor and their communities transformed by the power of Christ.....
This sounds really great, but what does "transformation" actually look like?
Transformation can be described as restoring broken relationships: relationship with God, with our self, with others, and with creation.
Relationships in these four key areas underlie our human experience. Are they strong and vibrant, as God intends? What degree of brokenness exists in each area? Using this framework helps us to understand poverty, and the journey to wholeness and fullness of life that God wishes for us (John 10:10).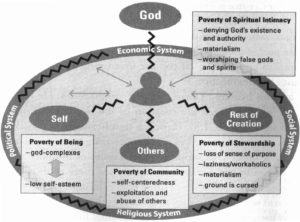 We are indebted to Steve Corbett and Brian Fikkert, who describe this biblical holistic framework in their book When Helping Hurts.
Within Servants we yearn to see these relationships healed and reconciled (both in ourselves, and our neighbors), and we recognize that we have an active part to play.
In the section below, we hope to highlight these areas of transformation, and provide some concrete examples of how we're participating with Jesus to see healing and restoration.  It should be noted that all the projects aim to integrate all areas, but are separated to emphasize a certain aspect of transformation.  After all, wholism is one of our core principles, so all the programs exist simply as doorways to wholistic transformation of real people.