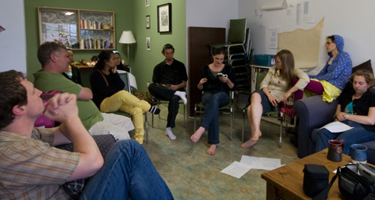 A Servants Orientation course is the best way to get a thorough introduction to the vision, principles, values and strategies of Servants.  This course is part of the Steps to Joining for anyone planning to join a Servants team in Asia or a Western Servants community.  If there is space we also sometimes accept those who are still discerning God's call on their life, who wish to attend in order to get to know Servants better.  Orientations are full-time and run for 2 weeks.
Location
This orientation course will take place in Manila. The history of Servants can be traced back to Viv Grigg's vision for incarnational teams of workers living in the slums of this city. One in four of Manila's 14 million residents live below the poverty line. They are spread throughout the city in crowded urban poor settlements or slums. Most have left their home province in hope of a better future in the city but many of the factors that forced their move follow them. In the city they face more hunger, disease, vulnerability to natural disasters and unemployment. To learn more about the Servants team in Manila, click here.
Content:
These are the major components:
– Field Visits/Outings.  These trips outside the main meeting place allow the orientees to see some of the principles and theory in practice.
– Devotions/Worship times.  Each day will begin by focusing on God with a devotional time led by one of the orientees or facilitators.
– Personal Stories.  Each participant is encouraged to share some of their personal story and journey towards mission.
– Private Interviews.  Each participant is given an opportunity to raise questions and concerns in private and receive feedback from the leaders.
– 20 Teaching Modules.  The core curriculum and foundation material that each potential worker needs to know before joining a team:
Module 1:   History, Vision & Mission of Servants
Module 2:   Who, Where & What is Servants?
Module 3:   Poverty and the Urban Poor
Module 4:   Relief & Community Development
Module 5:   A Theology of Suffering
Module 6:   The Incarnational Approach
Module 7:   Simplicity
Module 8:   Holism
Module 9:   Community
Module 10: Servanthood and Empowerment
Module 11: Language Learning
Module 12: Bonding
Module 13: The 5 Values
Module 14: Team Work
Module 15: Servant-Leadership
Module 16: Self-care
Module 17: Cross-Cultural Conflict
Module 18: Evangelism & Church Planting
Module 19: Discipleship
Module 20: The Ministry Ethos and Governance Guidelines of Servants
Cost
If you are able to contribute to the cost of Orientation (about $200 per person covers food, speakers, transport, etc. – for 2 weeks) you are encouraged to make a donation.  We realize that people are coming from very different places and ability to pay so if you are able to give more, please do!, and if you are only able to give a little, we also receive that gratefully and trust that God will provide.
How to Apply
If you are interested in attending this course, or know someone who should be there, let us know asap as we try to keep it to a small intimate group, living together for the 2 weeks, so space will be very limited.  You will need to fill in an Orientation Application Form if you have not previously completed a full Servants Application form.