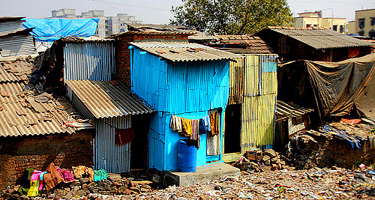 The following reflection was written by a member of one of Servants' two teams in India.  You can learn more about joining Servants in India by clicking

here

.
A few months ago my roommate and I moved into a room that was once occupied by a family of five.  Shortly after that, a family of five moved into the smaller room we just left.
Admittedly, three of those five are under the age of 10. But that doesn't make me feel any less conscious of how blessed and privileged I am to have more space, just because I can easily afford a few extra dollars rent every month.
That family is poor. Mom and dad both work full time, 7 days a week. They never get a day off unless there's a holiday (and even then, sometimes they still have to work).
It's nice to see the oldest daughter go off to school most days. I wish it was "every day" except for the fact that, when she goes, it leaves her much smaller younger brother and sister alone to fend for themselves.
And I feel bad for them, alone for most of the day. If you leave your two kids under the age of 6 alone for most of the day, we'd likely call that "neglect" in America. But here it's just the cost of earning enough money to keep feeding them.
So, while it's hard for me to see them alone, they're alone because both of their parents are working hard to support them.
And when their parents come home and hit them, my American sensibilities say "abuse". But here the culture says it's perfectly fine (good even) to hit your children. And if you aren't around to keep them from going up on the railroad tracks (dangerous) or wasting their lunch (a serious offense when you're as poor as they are), how else are you supposed to make sure they don't do it again?
And so, I see these parents (who are really just the same as so many other parents here) through two sets of lenses. One set sees neglect and abuse. And another set shows me two people who love their children and are just doing the best they can to keep their kids well fed and safe.
I don't have much to offer them except my time, some crayons to color with, the occasional listening ear, a shoulder to cry on, and prayer. Thankfully just about all five of them seem pretty happy to get one or more of those from me at one point or another. And honestly, that family is filled with laughter and smiles more often than their situation might lead you to expect.
Please pray with us for this family (and all families) so poor that they are faced with such hard decisions. And please pray for us, as we (with our different lenses and perspectives) try our best to love them.