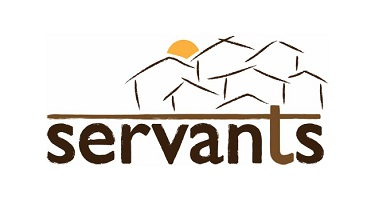 Early on Bank Holiday Friday morning a group stood amongst boxes and banners in an empty area of a Greenbelt marquee, many of us meeting for the first time. A few hours later, with some ingenuity and plenty of creativity, the "Conspiring" stall was in place and for the first time in the UK, four incarnational urban mission groups were sharing a stall to raise awareness of the forgotten areas of the UK and the slums of Asia. Servants joined with Eden Network, Urban Expression and 614/Salvation Army for Greenbelt, with financial support from Church Urban Fund.
The centre pieces of our area were a display of four sets of pairs of shoes; real shoes and real accounts of people from each group who have made the move into deprived areas of UK and the slums of Asia, paired with those from people they have lived alongside and journeyed with for years, brought hope to and in turn been changed by. "Walking with the Forgotten" indeed, these moving accounts inspired and challenged people to find out more.
614, who are also good friends of the Servants Vancouver team, brought their giant floor map which illustrates the bottom 5% of UK neighbourhoods in terms of multiple deprivation using glass beads and jenga towers. This was a great talking point. The map graphically illustrates the scale of the problem in our major cities and it also led people to consider the affluence of their own area – quite an eye-opener!
People were surprised and impressed that four groups were cooperating in raising the profile of the urban poor.
All four groups are part of Conspiring UK, an informal network of groups focussed on encouraging people to relocate to the forgotten areas of UK and overseas. Church Urban Fund also provided funds for a booklet with details of the current 8 "Conspiring" organisations; the four sharing the stall plus Innerchange, Frontier Youth Trust, Urban Presence and Worth Unlimited. With hundreds of booklets given away at Greenbelt, more and more people are discovering the emergence of incarnational mission amongst the marginalised.
Speakers at Greenbelt included one of Servants' Elders, Dave Andrews, whose talks on "Plan Be, living out the Beatitudes today", challenged hundreds who came to listen to him. He also shared his experience from years of community living in discussion sessions hosted by an inspiring group from Hull's housing estates, on "Open Houses in Not Nice Places", and "Passionate but Knackered! – community work for the long haul"
Tom Sine spoke of the chain of incarnational Urban missional groups started by Viv Grigg and, speaking for the first time at Greenbelt, Jonathan Wilson-Hartgrove traced a history of the Monastic movement and the current groundswell of New Monastic communities emerging worldwide.
The day after Greenbelt, Jonathan Wilson-Hartgrove led a get-together in Southall of New Monastic and Small Missional communities, including Servants, for a day of getting to know each other, consultation, song, prayer and delicious asian food. This was the first time many of us had met each other – or even heard of each others' existence, so we have no idea what will come out of the consultation day, but are sure that the resulting networking and sharing of ideas can only strengthen these sorts of groups, many of whom have a focus on living amongst and caring for the marginalised.
Contact the UK office if you'd like to know more about the Conspiring UK network or any follow-up from the New Monasticism consultation day.