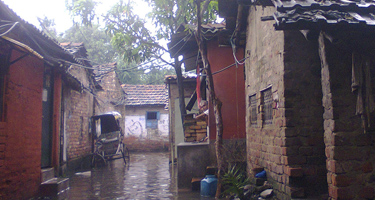 The following reflection was written by a member of a Servants team in India.
After spending a couple months back in the United States, I recently returned to this city that I love here in India.  I couldn't have asked for a better transition back.  I'm reminded how much India, this city, and even my slum community feels like home.  I feel increasingly comfortable with the language and culture, and some of the things that used to be hard don't frustrate me as much anymore after 3 years.  I also have the part-time task of starting an English program in a nearby slum that I've mentioned before.  This feels like a great fit with my passion and the needs here on the ground.  For all this, I'm grateful.
As I learn my way forward with the English program and study Bengali part-time at the university, I also have the opportunity to be present to whatever else God has for me in my slum community.  What is my purpose here?  My purpose is to seek God in the slums.  Out of this communion with God's Spirit I believe I will be guided in the right direction and with the strength I need.  Everything I do and say sprouts from this life of listening to God and following God's little nudges.  As I do this in community with other followers of Jesus, I long to see people coming to know Jesus, for God's shalom to reign, for healing and restoration to be seen and experienced more and more, in my life and in the lives of my friends in poverty.
In my context, this means figuring out how to teach in empowering ways that connect with kids who are struggling to keep up in school.  It means acknowledging the dignity and beauty in people who annoy me or feel rejected.  It means affirming kids and listening to their ideas.  It means affirming the value of women in this culture.  It means laying hands on the sick to let the Spirit do what the Spirit does.  It means fully embracing the love God offers for myself so that I can share it with generous, loving joy, not guilty obligation!  It means listening continually and responding boldly in love.  It means trusting in the midst of my questions.  Therefore, I need your continual prayers for humility, deep love, discipline, faith and whatever else the Spirit shows you to pray for on my behalf.  Thank you for being my very important advocates in prayer and encouragement.