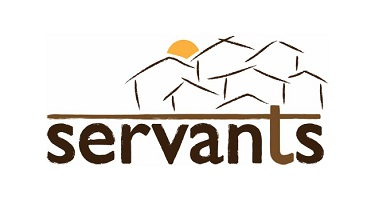 This letter was written by a Servants member to his home church in America to explain why he would not be participating in Veterans' Day celebrations. Exactly two years later (November 11th, 2007) he was invited to speak at the same Veterans' Day service…
To my pastors,
I pledge my allegiance as a citizen of the Kingdom of God to a King who took the initiative in loving me, an enemy of God (2 Cor. 5:20 & Romans 8:7). Justice is what I deserve, but praise God that He sent His Son on a mission of mercy instead (John 3:17; 12:47). And as ambassadors, we have been given a mission: "Love one another as I [Jesus] have loved you" (John 13:34). Paul taught me to imitate Christ…to love like Christ (1 Cor. 11:1; see also Heb. 12:2).
Thus, as a Christian who is striving alongside of you to imitate the love and mercy of Christ, I cannot pledge my allegiance to anything contrary to Christ's gospel. Nor can I praise people for acting in a way contrary to the self-giving, merciful love of Christ.
And thus, though I never thought I would write this, it would be sin for me to help lead worship in the upcoming Sunday service (James 4:17).
I cannot be part of a church service that chooses to celebrate Veteran's Day by having the congregation pledge allegiance to the American flag followed by applause for all the church members who have and are serving in the military.
In this age, many U.S. Christians have let go of the cross to take hold of the flag.
I cannot pledge my allegiance to the United States of America if they are being unloving to their neighbors. I see Scripture teaching us to be globally-minded Christians who are not tribal Christians (our god is for our tribe – in this case the USA – and is against all who are not allied with our tribe).
Nor can I praise anyone involved with a force that believes violence can bring about peace. Jesus taught differently (i.e. John 18:36). I cannot praise, nor can I pledge allegiance with my church family this Sunday. I strongly disagree because I see these entities (militarism and Pax Americana) as being in opposition to the Way which Jesus calls His followers.
Regarding pledging allegiance to the U.S. flag, allow me to quote an American (Shane Claiborne) who was in Baghdad while America carried out its "shock and awe" bombing campaign on the city. When asked if he was a traitor, Shane Claiborne responded:
TRAITOR?
– If this bloody, counterfeit liberation is American… I am proud to be Un-American.
– If depleted uranium is American… I am proud to be Un-American.
– If US sanctions are American… I am proud to be Un-American.
–  If the imposed "peace" of Pax Americana is American… I am proud to be Un-American.
BUT
– If grace, humility, and nonviolence are American… I am proud to be American.
– If global democracy is American… I am proud to be American.
– If sharing to create a safe, sustainable world is American… I am proud to be American.
– If loving our enemies is American… I am proud to be American.
REGARDLESS-
– I would die for the people of New York but I will not kill for them… my Kingdom is not of this world.
– I would die for the people of Baghdad but I will not kill for them… my Kingdom is not of this world.
– I will stand in the way of terror and war… my Kingdom is not of this world.
– I will pledge an allegiance deeper than nationalism, to my God and to my Family… my Kingdom is not of this world.
– I will use my life to shout, "Another world is possible"… for my Kingdom is from another Place."
Jesus declared in John 18:36, "My Kingdom is not of this world. If it were, my servants would fight… but now my Kingdom is from another place." Jesus informed Pilate that His kingdom was not of this world in one specific regard – namely that His followers did not use violence
REGARDING THE U.S. MILITARY AND VIOLENCE IN GENERAL:
I believe in a God of scandalous grace. If I believed terrorists were beyond redemption, I would need to rip out half of my New Testament Scriptures, for they were written by a converted terrorist. I have pledged Allegiance to a King that loved evildoers so much He died for them (and of course the people of Iraq are no more evil or more holy than the people of the US) teaching us that there is something worth dying for but nothing worth killing for. (Shane Claiborne)
The cross is the power of God (1 Cor. 1:18). Jesus showed us that He would not establish His kingdom by the sword (Luke 22:49-50 & Zech. 9:9-10), but rather through a cross – an act of self-giving love. Jesus did not say that one should practice loving nonviolence because it would always instantly transform enemies into bosom friends. The cross stands as a harsh reminder that love for enemies does not always work – at least in the short run. Jesus grounds His call to love enemies in the very nature of God.
The Jews were expecting a messianic warrior king, yet in God's wisdom He sent His Son to be the Messiah of a self-giving love. He rode in on a donkey! He taught us to love our enemies even when they persecute us. Paul heralded this same counter-cultural love: "Do not be overcome by evil, but overcome evil with good" (Rom. 12:21). And don't forget, Paul was a converted terrorist. "If I believed terrorists were beyond redemption, I would need to rip out half of my New Testament Scriptures, for they were written by a converted terrorist" (Claiborne).
Paul provides some practical examples of what it means to love our enemies. "If your enemy is hungry, feed him; if he is thirsty, give him something to drink" (Rm. 12:20). This is the opposite of the United States' military strategy against Iraq. American led U.N. sanctions were placed on Iraq from August 6, 1990 until June, 2003. Sanctions on Iraq were the most comprehensive in modern history, following the first gulf war, which directly targeted water treatment plants, and electrical infrastructure. It is estimated that over 500,000 children died as a direct result of economic sanctions, primarily of water borne disease. (UNICEF report: http://vitw.org/archives/380).
Prior to these sanctions in 1991, Iraq was not a third world country; it was a developed nation. The same bill which was worth $75 USD in 1991 is now worth 10 cents. There have been five UN officials that were once in charge of enforcing the sanctions that have resigned because they think they are wrong. These UN officials now vehemently and publicly oppose the sanctions.
The US is directly violating UN resolution Protocol 1 1977 (Additional to Geneva Convention) which declares that manipulation of the rights of people is not allowable to force political ends. Another US law, Title 18 (2331), states that it is illegal, through violating human rights, "to influence the policy of a government by intimidation or coercion" – but we have been sadly doing this for 12 years with comprehensive sanctions that make most every basic necessity unavailable to Iraqi people.
Why would we impose economic sanctions that, by design, intentionally attack the weakest in a society. It is like burning the house down on an entire family because they have an abusive father. These sanctions certainly did not heed Paul or Jesus' command to feed the hungry and give a drink to the thirsty (Matt. 25 & Rom. 12). How can I pledge allegiance to this American Empire?
The US history of unjust war (not to imply that there could ever be a just war) goes much deeper than we often realize. We are partly to blame for fuelling Saddam and bin Laden. A 1994 Senate Banking Committee investigation found that most of the chemical and biological weapons capabilities Iraq had were given to them by the U.S. The gas used to kill 5,000 Kurds in 1988 was made in a military facility in Maryland. President Bush continued to sell weapons of mass destruction (WMD) technology to Iraq (4.6 million worth) right up until the invasion of Kuwait on August 2nd, 1990.
And then there is Lockheed Martin. They are the world's largest weapon corporation, the U.S.'s #1 international arms dealer, the U.S.'s chief nuclear bomb contractor, and one of the country's largest welfare profiteers. There are 190 independent countries in the world. Last year, 154 of them received arms produced by U.S. arms manufacturers, among which Lockheed Martin is the leader. That is 80% of the world receiving weapons made in the USA by arms manufacturers, the largest of which is Lockheed Martin.
I often hear the US call themselves the policemen of the world. How many policemen arm the neighborhood with munitions? (Claiborne). We armed Saddam as he fought against Iran; we provided weapons to Bin Laden as he warred against the Soviet Union, and we trained Timothy McVeigh who became our countries most terrifying domestic terrorist. While in the military Timothy McVeigh wrote that he felt like he was being turned into "an animal". Every day he found it easier to kill. Violence only brings about violence.
How can I pledge my allegiance to the U.S. flag?
Have we considered getting to the root of why people want to terrorize us? Have we considered promoting peace through better neighborliness as a country? Friends rarely hit friends. Nearly half the federal budget goes to the military while "welfare" dispersals make up less than one percent. Instead of spending $226 billion so far on the war, we could have hired 3,756,447 additional public school teachers for one year, or we could have built 1,951,706 additional housing units for low-income and homeless, or we could have fully funded global anti-hunger efforts for 9 years, or we could have ensured that every child in the world was given basic immunizations for 72 years (Stats found at http://nationalpriorities.org/index.php?option=com_wrapper&Itemid=182)
Please don't overlook these statistics! For providing immunizations for 72 years and providing food for 9 years to malnutritioned children would greatly reduce the 210,000 children who die every week due to malnutrition and easily preventable diseases.
I don't understand how even Just War Theory adherents can embrace our military philosophy. We call a man a thief if he steals someone's coat. Shouldn't we be called thieves if we have the means to give someone a coat, but neglect to. We have the means to provide all immunizations for 72 years. We have the means to greatly impact world hunger for 9 years with just the military spending of the last three or so years. The Iraq War death toll is now not just 2,800 American soldiers or the estimated 655,000 Iraqis (mostly civilians) nor the 500,000 Iraqis killed by our sanctions since 1991 (mostly children). The Iraq War death toll must also take into account all those killed by easily preventable diseases and malnutrition when we have the means to be loving neighbors. We have now reached the millions.
How can I pledge allegiance to the U.S. flag?
Couldn't our money be used for a greater good than violence? Why don't we use our money to love our neighbors…even our enemies. Would we still have enemies if we did this? Either way, we are called to love as Christians! "What is crazy: spending billions of dollars on a defense shield that is ultimately vulnerable, or suggesting that we share our billions so we don't need a defense shield" (Shane Claiborne)? The US spends 47% of the overall world military spending, but the next closest country is Japan with 5%.
Every time our government chooses to use military force to bring about change in the world, they once again teach our children the myth of redemptive violence, that violence can be an instrument for good. This is precisely the logic I am trying to rid myself of (Eph. 4:22-24), and which I especially sought to "unteach" in the inner city children this summer in Philly – who have been taught this lie from every angle. And to make matters worse, our military constantly entices the impoverished teenagers of my inner-city neighborhood to join them. These youth know their only way to go to college is if they become slaves to the military for a few years. War disproportionately affects the poor!
"There is no way to peace; peace is the way" (A.J. Muste). Violence only begets more violence. It's a cycle which history proves. But look at Ghandi and Martin Luther King Jr. and most of all, look to Jesus. Did not such revolutionary love triumph in the end. Is that not what Revelation teaches Christians who are being persecuted by the powers of this world: The self-giving love of the slain Lamb reigns, and because of this everything is being made new (Open Door Community). This revelation unmasks the frailty of the powers and structures that fallen humankind regards as absolute. We have hope that the way of the cross will triumph!
Ending on a side note: Thousands of soldiers have gone to Iraq, willing to kill people they do not know because of a political allegiance. I am preparing to pick up my cross and follow Jesus to Indonesia. Hence I must be willing to die for people I do not know because of a spiritual allegiance. The soldiers have incredible courage, courage enough to die for something they believe in. I pray that Christians would have that same courage. But instead of picking up the flag, we bear a cross.
In closing, I hope you now see why I cannot with a pure conscience pledge allegiance to the U.S. flag nor thank members of our church family for serving in the military. I love and have been loved by numerous military families in our church. I cherish their friendships. I truly hope you do not read this letter as having an arrogant, all-knowing overtone. I confess that I would not be pursuing Christ if it were not for each of you. I would not have experienced Christ's love in my life if it was not for each of you. To end, I repeat what I started with: I cannot agree with aspects of the service on Sunday, and thus I cannot participate. Yet, I love each of you dearly and look forward to growing with you all next Sunday.
Just another child seeking to discern, experience, and live our Father's love,
Jackson Pottfield
John 13:34-35 & 1 John 3:16-18
[Name changed for security reasons related to his future country of service. The author also wishes to acknowledge that the letter does not properly cite all sources, because it was written at the last minute. For sources of quotes or statistics please write to us. For Servants official stance on Non-Violence please search the news section of this website.]